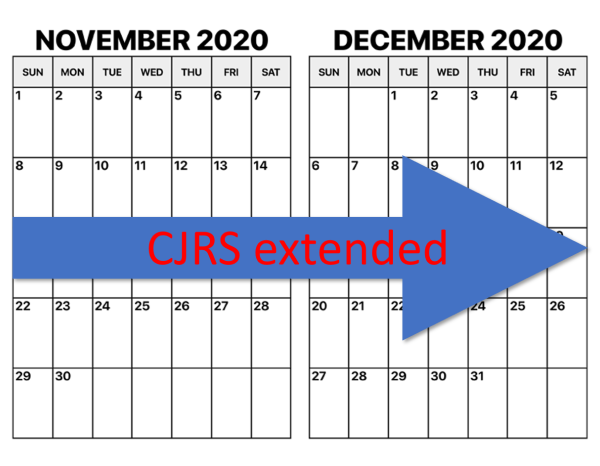 Posted on
In line with the chancellor's recent announcement of a further national lockdown, the Coronavirus Job Retention Scheme (CJRS) has been extended until December 2020.
The terms of the month-long extension will see furloughed employees receiving 80% of salary for hours not worked rather than the 60% previously announced for October. Businesses will only be required to cover National Insurance and employer pension contributions for hours not worked.
As advised in the government's statement, to be eligible for the scheme, employees 'must be on an employer's PAYE payroll by 23:59 30th October 2020. This means a Real Time Information (RTI) submission notifying payment for that employee to HMRC must have been made on or before 30th October 2020.'
The announcement also included the following:
The Job Support Scheme, which was due to start on 1 November, has been postponed until the furlough scheme ends.
Business premises in England that have been forced to close will receive grants of up to £3,000 per month under the Local Restrictions Support Grant.
£1.1bn will be allocated to Local Authorities, distributed on the basis of £20 per head, for one-off payments to enable them to support businesses more broadly.
Mortgage holidays for homeowners impacted by coronavirus will continue. Borrowers who have not yet had a mortgage payment holiday will be entitled to a six-month holiday. Those who have already started a mortgage payment holiday will be able to top up to six months without this being recorded on their credit file.
The Job Retention Scheme will also continue for a further month.
Torgersens partner Martin Johnson commented; 'Welcome though these further support schemes are, businesses in the north east will need to give immediate consideration to their furlough arrangements and communicating the changes to their employees. We've been advising many employers over the past few months on the CJRS and JSS schemes so please let us know if we can help.'