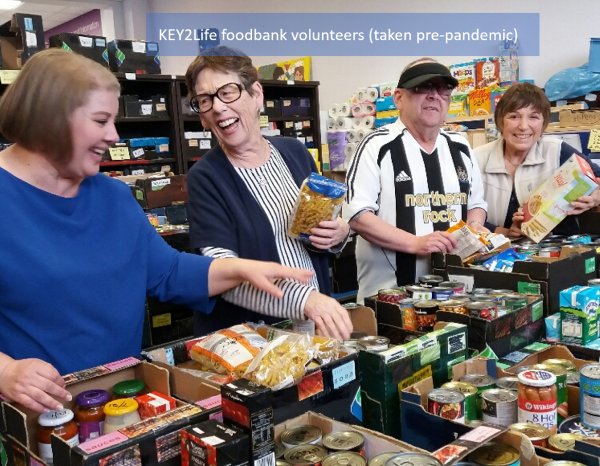 Posted on
We are very pleased to highlight the work of the charity, KEY Project, a Torgersens client based in South Tyneside. We asked them about the services they deliver and how they've responded to the challenges of the past year.
When was KEY Project established?
KEY Project, supported by South Tyneside Churches, was founded in 1992 by volunteers from local churches as a direct response to the death of a young homeless man on the streets of South Shields.
Today the charity is recognised as a leading local provider of social care, partnering with South Tyneside Council, to deliver services that help local people flourish.
Who does KEY help?
KEY provides a range of housing advice, assistance, and accommodation services to marginalised families and young people aged 13-24 at risk of homelessness and/or experiencing hardship. The charity also founded and leads the partnership which delivers the KEY2Life foodbank, helping some of the most vulnerable within its community.
What services does the charity provide to help these people?
KEY's services include:
Assistance and advice in finding accommodation
Mediation and Family Intervention
Tenancy Support
Supported Accommodation
As well as helping to prevent youth homelessness, KEY Project works to empower young people by giving them the knowledge, and confidence they need to live successful, independent lives; getting back into education, training, employment and leading a healthy, active lifestyle.
What have been the main challenges of the last year?
COVID-19 has exacerbated the main causes of youth homelessness; family relationship breakdown, economic uncertainty, and mental health issues.
The pandemic has disproportionately impacted upon 18-25s, and the lowest paid. People in these groups are most likely to have been furloughed, to have lost their jobs, or had their income reduced because of working in the sectors most affected by the lockdown. The charity's KEY2Life food bank saw a 310% increase in the number of emergency food parcels handed out in 2020 compared to the previous year.
School closures, along with restrictions on movement, preventing access to a wider network of family and friends, have impacted on mental health, leaving young people in need of additional help at a time of reduced access to mental health services.
With no let-up in demand for KEY's services during the pandemic, as restrictions have eased the need for support remains acute.
Have there been any resulting changes to the way you work?
We have had to redefine how we can maintain service provision while following the latest government COVID-19 advice to protect the health and well-being of the young people and families we assist, our staff, volunteers, partner organisations and the wider public.
With all home visits suspended, unless there is an emergency, Tenancy Support clients have been contacted daily by phone or video to ensure no young person is left feeling isolated because of reduced opportunities for face-to-face contact. Prevention, Mediation, and Intervention have been provided on the same basis to all families at risk of breakdown with follow-up welfare checks plus out of hours chats and texts.
Our young people have been more reliant on us than ever to help and care for them during this difficult time; managing their needs and behaviours has required new strategies.
Some have struggled mentally so we have put together a 'Be better' resource with tips and advice on wellbeing and personal development. We have been piloting activities such as fitness classes, gardening, and upcycling projects in our supported accommodation properties to encourage a positive daily routine keeping mind and body active.
Ross Allen, Executive Lead at KEY Project, said: "This has been a year like no other; during the pandemic we have seen a huge increase in demand for all our services. While we have had to creatively reimagine how our projects are delivered, our commitment to supporting the most vulnerable within our community has remained unchanged. We are committed to ensuring those facing homelessness and/or hardship are able to achieve their full potential, contribute to their community, and lead happy, successful lives."
What's next for KEY Project?
The charity has gone through a period of significant change in recent years. Rapid growth is expected to continue over the next two years as the charity develops its services to meet increasing need.
Plans include expanding the range of supported accommodation and mediation/family intervention services for children and young people, providing more employability and mental health help as well as facilitating more client and staff engagement.
How to help
If you are interested in helping Key Project, there are several ways to do so:
Make a financial donation via their website
Drop-off urgently needed food items direct to the KEY2Life Food Bank at Boldon Lane Library (postcode NE34 0LZ), open Mon-Fri 10-4, or to local supermarket donation points
Host a food collection at your school, church, or business, if you can do so safely (the charity will collect if necessary)
Fundraise on the charity's behalf