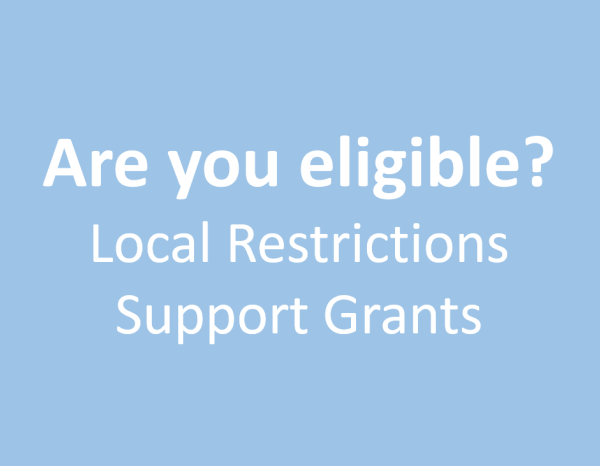 Posted on
The government's Local Restrictions Support Grants provide financial assistance to eligible businesses that have been required to close or have been severely impacted by temporary local restrictions from 5 November to 2 December 2020.
Support for businesses that have had to close
Eligible businesses may be entitled to a cash grant from their local council for each 28-day period that they have had to close under national restrictions.
A business may be eligible if it:
is based in England
occupies property on which it pays business rates (and is the ratepayer)
has been required to close because of the national restrictions from 5 November to 2 December 2020
has been unable to provide its usual in-person customer service from its premises
Examples of eligible businesses could be non-essential retail, leisure, personal care, sports facilities, and hospitality businesses. Also included could be businesses that operate primarily as 'in-person venues', that have been forced to close those services and provide a takeaway-only service instead.
It is important to note that eligible businesses can get one grant for each non-domestic property. This means for example, that if a business owns two cafes, it can claim under this scheme for each of the separate locations.
Support for businesses that remain open
Those businesses that have been severely impacted due to local restrictions but remain open (local COVID alert levels: High or Very High) may be eligible for a Local Restrictions Support Grant. This is payable by the business's local council for each 28-day period under local restrictions.
Your business may be eligible if it:
is based in England
is in an area subject to 'High' or 'Very High' local restrictions since 1 August 2020 and has been severely impacted because of the local restrictions
was established before the introduction of Local COVID alert level: High restrictions
has not had to close but has been impacted by local restrictions
Please note that local councils can decide the precise eligibility criteria for these grants. HMRC expects that the funding will be targeted at hospitality, hotel, bed & breakfast, and leisure businesses.
We can help
If you require assistance in determining whether your business is eligible or if you have any other questions, please get in touch. I can be contacted on mobile number 07801 832 371 or by email at martin.johnson@torgersens.com.