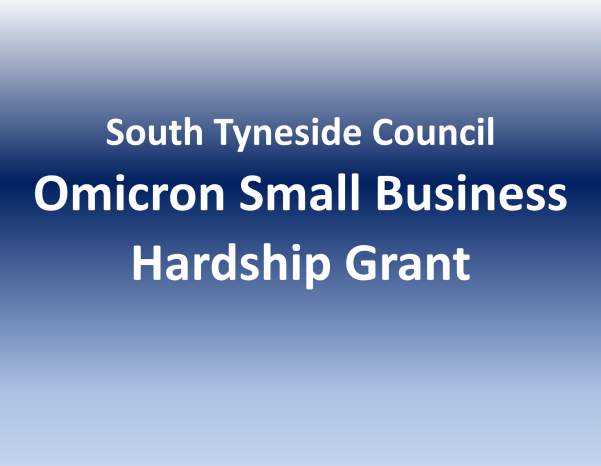 Posted on
Further to our recent blog about the financial support for businesses affected by Omicron, South Tyneside Council have set up a new Omicron Small Business Hardship Grant Fund.
Due to go live on 24th January, the fund will assist small businesses affected by the Omicron variant of Coronavirus. Please note that business that are eligible for the Omicron Hospitality and Leisure Grant will not be eligible for this scheme.
The Council advises that as a limited amount of funding available, grants will be allocated on a first come, first served basis, so not all applicants may be successful in receiving grant funding.
How much will you get?
The grant fund is available to small businesses that have been significantly impacted by the Coronavirus Omicron variant and that can demonstrate hardship. One-off payments of up to £2,000 are available:
Businesses occupying commercial premises - a grant payment of £2,000.
Businesses without commercial premises (e.g. businesses working from home and mobile businesses) - a grant payment of £1,000.
Eligibility
Your business may be eligible if the following criteria are met:
It is based in South Tyneside;
It is a sole tradership, a limited company or a limited liability partnership;
It employs less than 49 people;
It was trading on 30 December 2021
Ongoing business-related fixed costs (excluding wages) amounting to a minimum of £200 per month can be demonstrated;
You have a business bank account or be able to demonstrate business transactions from a personal bank account;
You can demonstrate that the business is in hardship due to the outbreak of the Omicron variant;
You can demonstrate a significant drop of income due to the latest Omicron variant;
You do not receive income from alternative employment of £142.56 or more per week or 16 hours or more per week (whichever is higher).
Your business cannot get funding if:
It is eligible for the Omicron Hospitality and Leisure Grant;
It has received grant payments that equal the maximum permitted levels of subsidy;
It is in administration, insolvent or where a striking-off notice has been made.
This funding cannot be used:
as a wage support mechanism
for capital projects that do not provide direct business support
to fund projects whereby Local Authorities are the recipients.
How to Apply
Applications can be made online here from Monday 24 January at 10am.
To complete the application form you will need:
A bank statement covering 1-31 December 2021;
A copy of your driving licence or passport;
A business rates reference number (where applicable for commercial premises)*
Businesses in shared premises will be required to submit a tenancy agreement;
Evidence of ongoing business costs (excluding wages) of over £200pcm.
*The business rates reference number is either a seven digit number or a six digit number and an "X" (e.g. 123456 or 123456X). If you do not know this number, please call 0191 424 4299 to check. This will be required to check eligibility.